Save Money!


Ed's Plumbing and Sewer is the best place to get your water heater serviced or replaced QUICKLY! If you are without hot water, we can get you back to taking a hot shower within hours. Let us help you get your water heater serviced or replaced today by professionals you can count on.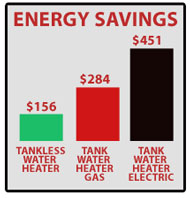 Learn more about tankless water heaters.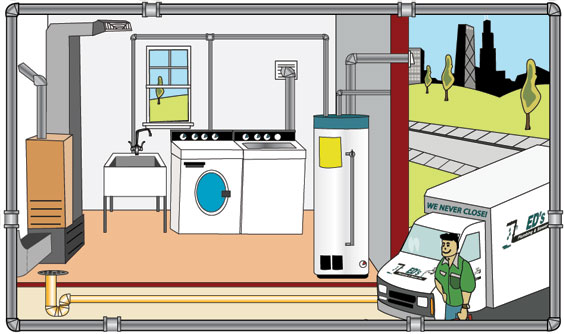 Here, at Ed's Plumbing, we believe a water heater should be installed by a plumbing professional. The Do-It-Yourself person may be able to handle many small household jobs, but the installation of a water heater could create a dangerous situation if performed incorrectly. In addition, there are many local codes and safety requirements that pertain to water heater installation and operation; without understanding these requirements you could be breaking the law as well as endangering yourself, your family, and your home.
Water heaters, either those that need repair and service or brand new installations require a certified plumber to do the job right. Ed's Plumbing & Sewer, Inc. have been serving the greater Chicago area, including Orland Park IL, Joliet IL, Bolingbrook IL, Naperville IL and Hinsdale for over 40 years and they are the first to say that if your water heaters are acting up, get them repaired or replaced quickly.
With full knowledge of all the local codes, Ed and his team of professionals can safely maintain, repair and replace water heaters. This work is not something that should be undertaken by do it yourself handymen as an incorrect installation could easily create a danger to you and your family.
Plumbers are the best to work on water heaters in and around Orland Park IL, Joliet IL, Bolingbrook IL, Naperville IL and Hinsdale and the best plumbers are found at "the greatest plumber" in Chicagoland.