Ed's Plumbing and Sewer will professionally clean your drains and sewers with state-of-the-art, American-made, rodding and hydro-jetting equipment. During our 40+ years of experience, we have developed proprietary custom-made equipment others do not have. Furthemore, our video inspection system allows us to pinpoint the problem without guessing!  We specialize in precision sewer repairs and use cutting-edge technology that may allow us to rehabilitate your sewer without any excavation. Click Here for more information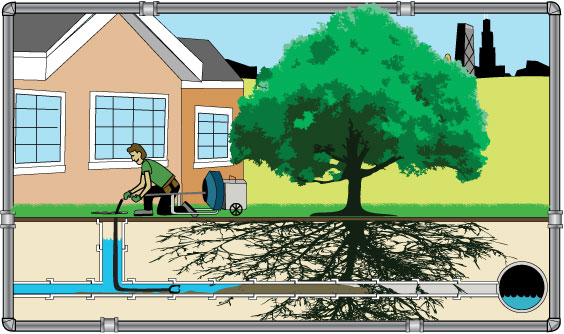 Ed's Plumbing & Sewer Inc. is the best company to call for fast service if you live in or around Orland Park IL, Joliet IL, Bolingbrook IL, Naperville IL or Hinsdale. As a professional plumber, Ed and his team are ready to help with sewer repairs of all kinds. The area is blessed with ample trees and many times their extensive roots will seek water by breaking into aging sewer lines and thus repairs become an urgent issue.
No problem, we can be there within hours. We are fully equipped with state of the art American made hydro jet and our custom made drain cleaning equipment to solve your sewer problems quickly, efficiency and competitively.
With Ed having served the greater Chicago area for over 40 years, those residents of Orland Park IL, Joliet IL, Bolingbrook IL, Naperville IL, and Hinsdale are just a phone call away from solving their urgent repairs needs.