If you have already lived through the dreaded experience of a flooded basement, then you know how much damage it can cause. Even one inch of water can take many hours of cleanup and causes thousands of dollars in damaged furniture, carpets and equipment.

We install only the highest quality sump pumps, ejectors, alarms, and state-of-the-art battery back-up systems. For true peace of mind, trust the experts.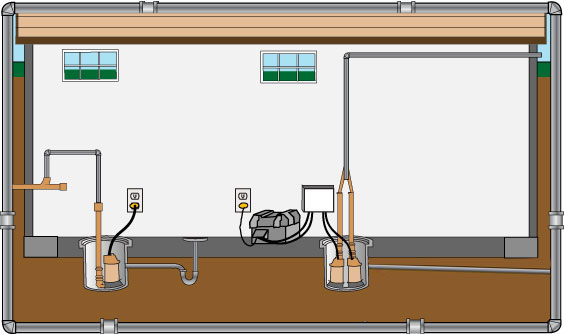 Quick & Efficient service for all your plumbing needs
Ed's Plumbing and Sewer is the most trusted name in plumbing and sewer repair and installation in the greater Chicago area and throughout Illinois. We proudly service Hinsdale, Naperville, IL, Bolingbrook, IL, Joliet, IL, and Orland Park, IL. Our plumbers are skilled and thoroughly experienced in all aspects of plumbing installation and repairs. We will always arrive on time and perform all service calls in a professional, courteous manner with complete attention to detail. In addition, our plumbers will come to your assistance in the event of an unforeseen incidence or emergency. We understand that in an emergency, you need plumbing assistance immediately to prevent any water damage to your home. That is why we dispatch our technicians as soon as we receive your service call to ensure that your needs are met quickly and efficiently.
Winterize your home and save money
When the cold weather approaches, you need to ensure that your sump pumps and water heaters are up to speed. We can come to your home and make any needed repairs to guarantee that your home is ready and fully prepared to handle the winter months ahead. By winterizing your home, you can save additionally by preventing costly repairs down the line. In the event that your sump pumps are not in working order and need to be replaced, we can efficiently replace them with the top parts and appliances in the industry. Full winterization of your home will include inspection of your water heater, sump pump, plumbing pipes, drains and sewer.
Contact us for service
Contact us for service throughout Hinsdale, Naperville, IL, Bolingbrook, IL, Joliet, IL, and Orland Park IL. We provide speedy and attentive service to ensure that your service call is handled quickly and efficiently. We are available 24 hours a day and 7 days a week to respond to your service or emergency call. Best of all, when you contact Ed's Plumbing and Sewer for your plumbing needs, you can rest assured that the greatest plumber is handling your most important investment, your home.