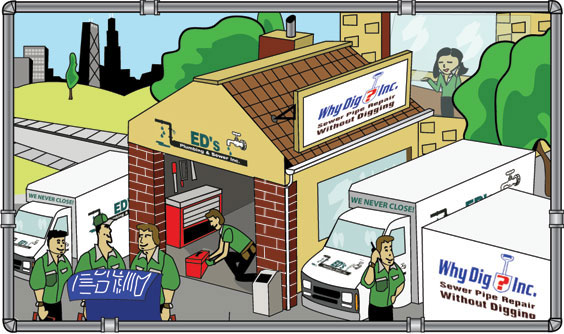 Plumbing repair service for residential, commercial and industrial customers
Ed's Plumbing and Sewer specializes in handling the most complex sewer, drain cleaning and plumbing repairs throughout Illinois. No job is too large our too small for our team of expert plumbers. We offer our service 24 hours a day and seven days a week for the convenience of our customers. We have been in business for over 40 years handling all types of plumbing repairs, installations and emergencies for residential, commercial and industrial customers throughout Joliet, IL and the surrounding areas. With Ed's Plumbing and Sewer, you will always receive fair, honest, flat rate pricing. We never inflate our quotes and all service is delivered in a professional and courteous manner.
We offer comprehensive services throughout Illinois
If you have a plumbing emergency in Joliet, IL we are the most trusted plumbing repair company who can handle your service call with optimal expedience. Our vans are always stocked with the necessary tools and equipment to immediately service your emergency call. In addition to emergency service, we also provide comprehensive services including appliance hook ups, major installations, leaks, drain problems, low pressure problems, water heater and tank less heater installations and repairs, furnaces, boilers, HVAC, sewer backups and sump pump and ejectors repair and installations. No matter what your plumbing needs are, we are guaranteed to complete your project to the highest standards within the plumbing industry.
Fully credentialed plumbers to service your request
Ed's Plumbing and Sewer employs the most skilled and experienced plumbers to handle your service requests. All of our technicians have been licensed and certified and are backed by years of experience. When you select our service, you can rest assured that all of our plumbers are fully licensed, bonded and insured and perform each service call in a timely manner. Whether you need drain cleaning, plumbing repairs, or sewer work, count on the services of Ed's Plumbing and Sewer for our more than 40 years in business. We have the experience and competence to complete each job well the first time, every time.